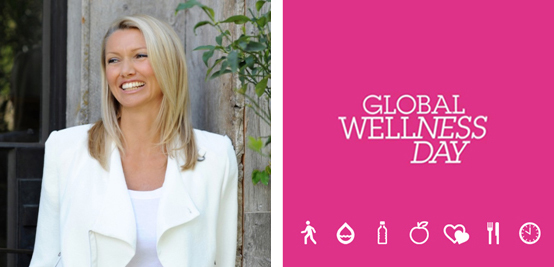 2016-06-09
100 Countries Expected to Celebrate via Free Public Wellness Activities
In Just Two Years, Grass Roots Movement Started at Turkish Spa
Embraced by Businesses, Associations, Cities, States & Countries!
Los Angeles, CA – Saturday, June 11, 2016 will mark the fifth Global Wellness Day (GWD) being celebrated around the world. GWD's international network of over 70 Global Wellness Day Ambassadors report that they are on target to have over 3,000 properties & locations in 100 countries organize complimentary wellness activities like yoga/Pilates/dance workshops; breathing & mindfulness sessions and nutrition & beauty classes to help millions realize that "One day can change your whole life." In fact, GWD events will be held around the world on the second Saturday in June, from sunrise in New Zealand until sunset in Hawaii.
Throughout her life, Charlene Florian, Chief Creative Officer, Kerstin Florian International, who recently passed away, was always an ambassador of wellness, leaving an indelible footprint on the industry and giving her full support to Global Wellness Day from the very beginning. To honor and commemorate her memory, Aksoy has dedicated Global Wellness Day 2016 to Charlene Florian's legacy.
Global Wellness Day 2016 - 7 Step Manifesto
Walk for 1 hour
Drink more water
Don´t use plastic bottles
Eat organic foods
Do a good deed
Have a family dinner
Sleep at 10:00 PM