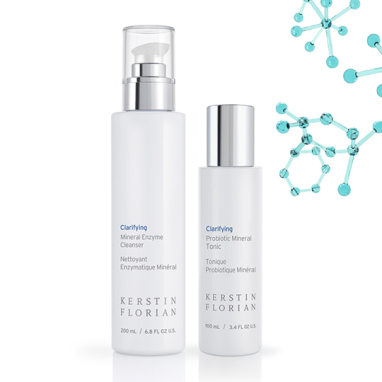 2018-10-15
... with probiotcs, minerals & fruit enzymes
2 Steps to Clearer, Healthier Skin
Take clarifying skincare to a whole new level with proprietary formulas that work synergistically with exclusive ingredient complexes to optimize skin health.
• Mineral Complex - Copper, Manganese & Zinc
• Botanical Extract Complex - Sea Lettuce, Spirulina & Triphala
• Essential Oil Complex - Lavender, Lemon & Peppermint
Mineral Enzyme Cleanser
Clean-rinsing formula cleanses, refreshes & balances with Fruit Enzymes & organic Kelp to detoxify, exfoliate & oxygenate.

Probiotic Mineral Tonic
Skin-regulating formula purifies, balances & brightens with Fruit Acids & Probiotics to stimulate cell turnover & normalize skin flora
Leaves complexion renewed & skin function restored.