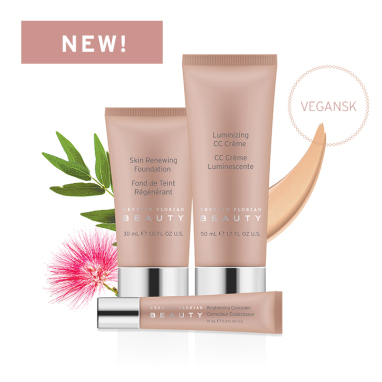 2017-11-13
Kerstin Florian Launches Skincare-Based, Vegan Beauty Line:
Kerstin Florian Beauty
A Curated Collection of Cosmetics to Finish What Your Skincare Starts
Kerstin Florian, a pioneer in luxury professional skincare, will introduce Kerstin Florian Beauty - the brand's first ever cosmetic line - in Fall 2017.
Fusing beneficial actives and natural ingredients with breakthrough formulations and professional cosmetic performance, Kerstin Florian Beauty offers fuss-free, intuitive makeup with skincare benefits, weightless textures and radiant finishes. Built around the company's guiding principle of Outer Beauty, Inner Health, this curated collection of facial cosmetics is a testament that beautiful skin begins with healthy skin.
"Facial cosmetics with spa skincare benefits are not only perfectly aligned with our philosophy, but also the ideal combination for today's wellness-focused beauty customer," says company president Julie Andrews. "Our collection extends and enhances any Kerstin Florian skincare regimen by using skin-beneficial botanicals with clinically-proven results in clean, professional-quality formulas that leave skin looking and feeling healthy and beautiful."
The Kerstin Florian Beauty collection includes:
SKIN RENEWING FOUNDATION: (30 mL)
What it is…
Soft-focus, long-lasting foundation providing smooth, buildable, skin-healthy coverage with immediate hydration and a silky finish.
What it contains…
Persian Silk Tree Bark Extract improves cell respiration and protects skin elasticity, as Snow Mushroom Extract attracts and binds moisture to skin, visibly reducing the appearance of fine lines & wrinkles.
What it offers…
A smooth, buildable, lasting finish that leaves skin hydrated and youthful-looking.
LUMINIZING CC CRÈME: (50 mL)
What it is…
A hydrating, color-correcting crème that offers a smooth, radiant complexion with a lightweight, dewy feel. Its breathable coverage and skin-protecting benefits make it ideal after a spa facial or anytime.
What it contains…
Blush Red Rabdosia and St. Paul's Wort Extract work together to calm and reduce inflammation, redness and pigmentation; mitigate photodamage; and improve collagen synthesis.
What it offers…
A breathable, blendable, sheer-coverage finish that corrects tone outside and in.
BRIGHTENING CONCEALER: (10 mL)
What it is…
A silky, age-defying concealer that provides buildable coverage that lasts without settling, all the while actively minimizing dark circles, puffiness and fine lines.
What it contains…
A trio of targeted actives – Red Algae Extract, Buckwheat Seed Extract and Peptides – combine to nourish, oxygenate and rejuvenate the delicate undereye area, improving cell function and reducing signs of aging.
What it offers…
Velvety-smooth, customizable coverage with a lasting, luminous finish.
Inspired by a holistic regard for body, spirit and earth. The entire Kerstin Florian Beauty collection is vegan.