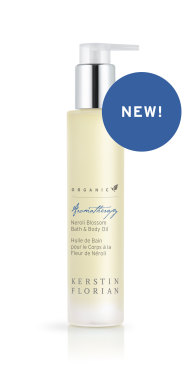 2017-04-28

NEW!
Organic Neroli Blossom Bath & Body Oil
We now have the new fantastic body oil in stock!
It is a wonderful organic blend with the signature scent of Neroli blossom. Uplifting Neroli essential oil and Rosemary extract come together in a silky, nutrient-rich blend of certified organic Coconut, Jojoba, Meadowfoam and Sunflower oils to transform bath time into a spa wellness Experience.
Derived from the fragrant petals of the Bitter Orange Blossom, Neroli has long been valued in aromatherapy for its calming and relaxing scent, which eases anxiety, depression and stress response as well as insomnia, heart palpitations and digestive issues. Both skin and spirit are left renewed and restored.
Luxurious oils infuse moisture & soften skin
Aromatherapy calms & relaxes the mind
Ideal for bath, post shower or blended with body lotion
Award Winner - Earth Day Beauty Award